Characters in Magpie were chosen from typefaces created for publishing of the 16th century up till the 21st century. The emphasis is on characters that have been in typefaces created for Christian publishing of the 16th century in England, France and the Italy. Additional characters support the 19th and 20th century French, English, Italian and Spanish language traditions and their publishing history. The Versicle and Response characters are used in Christian prayer books and present in typefaces used for Vatican publication since the 16th century, the typefaces used by Oxford University Press to publish religious books and the types of Simon-Pierre Fournier le jeune. Other characters present are from 19th and 20th century commercial printing. The per character is a partner to the at cost and present in types in Europe and America and used with other characters to create commercial bills of sale and bookkeeping material.
Magpie for Electronic Books
Magpie was designed as a book typeface and also planned as an OpenType font that focuses on the latest electronic book technology. Magpie's future technical font production will include OpenType support and specific hinting for electronic books and Microsoft's ClearType. The examples below show a screen shot of Magpie being displayed on a Hewlett-Packard Jornada 540 PocketPC with the Microsoft Reader and ClearType (Magpie as shown here is unhinted). The text is from an unpublished essay by Vincent Connare titled 'The type designs of William Addison Dwiggins'.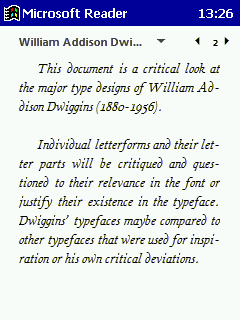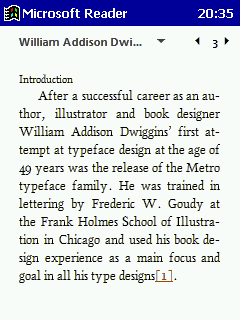 Microsoft also offers a ClearType Reader for Windows. Below is a link to view an image of Magpie (unhinted) using ClearType in the Microsoft Reader for Windows.
Magpie and Magpie Italic, large sample, 33k. Click here
Magpie is a contemporary look at the history of typography with a warm and cursive flow that is reminiscent of hand crafted typography. It is appropriate for traditional text and small text notes in book settings. Magpie was designed in 1999-2000 by Vincent Connare as part of the type design masters program at the University of Reading in Berkshire, England.
A great deal of thanks is due to Dr. Christopher Burke and Gerry Leonidas, Professor Gerard Unger and Tiffany Wardle for thier support and design expertese, to Professor Paul Luna for his expertese in book publishing and his keen eye for good typography, Alejandro lo Selso for his type design and language feedback and Michael Harvey for his inspirational lettercarving.
To download the Magpie booklet created from the University of Reading and presented at the AtypI 2000 congress ...Click here...!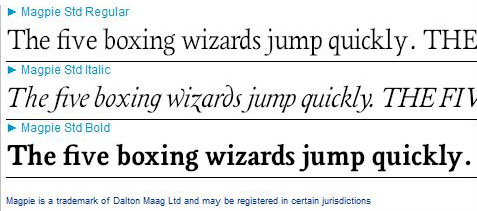 Magpie is a trademark of Dalton Maag Ltd. All text on this page is copyright 2000 by Vincent Connare. All rights reserved.